Decorative and Custom Parts
When a special, decorative, or truly custom solution is called for, Mercury Products is there for you with engineered fabrications for heavy duty truck, automotive, motorcycle, construction, and agricultural vehicles in addition to exhaust system and filtration equipment suppliers.
Mercury performs short and long-run blanking, forming, piercing, and/or bending operations to accommodate for your product specifications on both ferrous and non-ferrous metals.
Our precision stamping capabilities are complemented by a variety of resistance, MIG, TIG and robotic welding operations designed to meet your product specifications and insure that only the highest quality components go into your product. Our capability in plating, painting, polishing, finishing and assembling operations enable us to become your single source supplier for custom metal stampings, fabrications and assemblies. Mercury also offers value-added service in kitting and sequencing products for our customers' specialized needs
Materials:
Hot-rolled or cold-rolled steel, stainless steel, aluminized steel, aluminum, brass, or other upon your request.
Sizes:
Various
Applications:
For heavy truck, bus, RV, automotive, construction, agricultural, motorcycle, exhaust, filtration, office furniture, medical, industrial.
Assemblies:
Various
Finishes:
Plated, Painted or Polished to meet your requirements.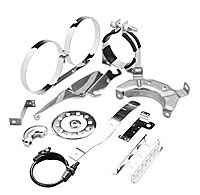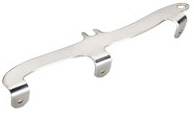 CUSTOM PARTS

Technical Specs
and Drawings »