Mounting Brackets
Mercury Products offers several different series of mounting brackets and straps in a complete range of diameters and designs to meet the rigid performance requirements of your applications. With proven designs for after-treatment systems, air cleaners, oil cleaners, oil coolers, muffler shield, and many other exhaust related applications, Mercury can accommodate virtually any design variations without additional tooling charges. Plus, all Mercury brackets are resistance or MIG welded for maximum strength and durability.
Brackets can be fabricated from standard 1008 / 1010 steel, or your specified material.
Materials:
Hot-rolled or cold-rolled steel, stainless steel, aluminized stainless, or other upon your request.
Sizes:
Standard diameters range from 5" to 24" or custom per your application requirements
Applications:
For heavy truck, bus, RV, agricultural and construction equipment, exhaust and filtration:
After-treatment Systems
Air / Oil Cleaners
Oil Coolers
Muffler Shield
Assemblies:
Weldments, with or without hardware.
Finishes:
Zinc plated, chrome plated, high-heat paint, polished stainless, or other upon your request.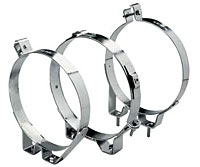 MOUNTING BRACKETS

Technical Specs
and Drawings »